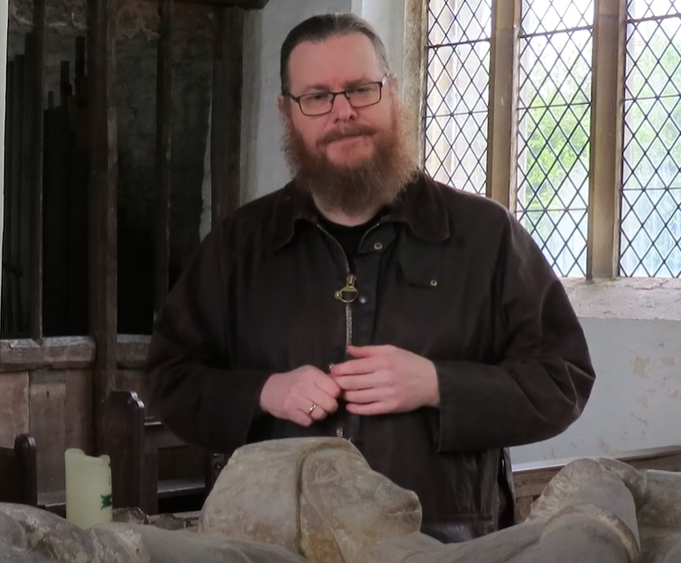 Hello, I'm Allan Barton - Welcome to my page
All education begins with a spirit of curiosity and I have been curious about medieval art and architecture for as long as I remember. That curiosity led me along the path of full time study in both History and Medieval Studies, culminating in a PhD in History of Art. I later went on to study Theology, which further enhanced my understanding of the medieval art and architecture I am interested in. That in-depth academic background ensures that my scholarship is broad and interdisciplinary. I am widely published in my field, with work featuring in academic publications as well as in printed and online journals.  In 2018 I was elected a Fellow of the Society of Antiquaries.
I have over twenty years experience as a teacher and public speaker. In a varied career, I have taught both in adult education and in the university sector at both undergraduate and postgraduate level, devising and teaching wide ranging courses. Both in my online courses here and on my YouTube channel, I bring all that experience to bear, offering courses that are fun, engaging and informative.




Courses Available
Showcase other available courses, bundles, and coaching products you're selling with the Featured Products block to provide alternatives to visitors who may not be interested in this specific product.

Hello, I am Dr Allan Barton and welcome to my Teachable page. Here on Teachable I offer an ever-expanding range of online courses in art and architectural history, church history, hagiography, iconography and theology. These are mostly introductory courses that are thematic in nature and they are pitched at a beginner to intermediate level - but even someone who has a good knowledge and grasp of the subject matter I cover, will get something from them.   
I have over twenty years' experience as a teacher and lecturer. I have mostly worked in the adult education sector. I was for several years a tutor for the Workers Educational Association and have also taught undergraduate and postgraduate students in universities. I am a member of the academic board of the Centre for Parish Church Studies and teach day schools regularly for them. For the past fifteen years I have also been a minister of religion – so I am an experienced public speaker. Behind that teaching experience, I have a solid academic background, with a PhD in History of Art and an MA in Medieval Studies – both from the University of York and degrees in History from University College London and Theology from Oxford. In my academic work I am able to approach the study of the past from an interdisciplinary and well-rounded perspective. I have been published extensively over the years and my scholarship was recognised through my election as a Fellow of the Society of Antiquaries of London in 2018.  In my courses, you will benefit, I hope, from both that knowledge and experience.  
Above all I would say that I am an enthusiast for the subjects I teach – the past really excites me.  I teach because I have a great love for art, architecture, and history. 
I really do hope you enjoy my courses as much as I enjoy creating them.
Lastly, just to say that my relationship with you as a learner doesn't simply end when you download the course - I offer one to one support for all users of my content. So, if you have any questions about the course curriculum, or the content, or would like me to clarify things, or you just want to dig a bit deeper into the subjects I cover, do get in touch with me.  You can do that either by email or through one of my social media accounts. I would really love to hear from you and support you directly in your learning.   Also, don't forget that I offer lots of free content on my YouTube channel and on Blog for you to enjoy, that will support your learning here. Links to how you can get in touch with me and all that external content are below.   
Check your inbox to confirm your subscription